Young people find out more about careers from local and national employers
The next in BEBP's series of Next Steps employability events took place on Wednesday 29th January at the Central Library in Bromley. Sixth form students from Charles Darwin, Hayes School and Harris Orpington connected with representatives from local and national employer organisations to find out more about what it's like to work in their sector and more details on the types of job/apprenticeship opportunities available to them.
The students have told their schools that, at the moment, they do not intend to progress onto Higher Education but will be looking for work once they finish school.
BEBP coordinated the event but the key employer partners who volunteered to support are the ones who made the event such a success. Thanks to the following employers for their help at the event – Bell Group, Clarion Housing Group, DWP, Education Development Trust, London Borough of Bromley, Lewisham & Greenwich NHS Trust, Metro Bank, Santander and Waterman Group. Our community volunteers also support the young people by offering 1:1 interviews and direct help with updating their CVs or just talking about work!
If your organisation would like to find out more, please contact Bromley EBP (ebp.admin@bromley.gov.uk)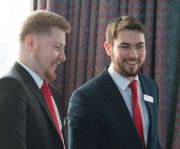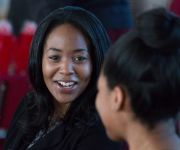 Ryan and Joey from Santander talked Brianne from London Borough of Bromley
to young people about a career in banking was on hand to advise young people
about LBB's Youth Talent Programme