Without our employers and community volunteers – we are nothing!
This academic year has been a busy one for all our employers and community volunteers who have helped us support a range of young people to help develop their employability skills. Many have given up their time to help sixth form students who are not going onto Higher Education at our Next Steps events held at the Central Library throughout the year.
They have also provided their knowledge and experience to help us support younger students in Years 10 and 11 (aged 14-16) at Langley Park Boys, Coopers and Darrick Wood Schools. The aim of these events is to help the young people better understand what opportunities are open to them after Year 11 including sixth form, college and apprenticeships. Our employers help inspire young people to develop their employability skills and to find out more about how they can succeed in the workplace of the future. This fits with the Council's statutory responsibility to support NEET young people (Not in Education, Employment or Training).
Some of our employers enjoy being a Dragon for the day and passing on their enterprise skills at our Dragons Pen events in schools for students in lower year groups. We have worked with Year 9 students (aged 13/14) at Ravens Wood School and with Year 7 (aged 11/12) at Bullers Wood School during the summer term.
If you are an employer and would like to be involved please contact Bromley EBP at ebp.admin@bromley.gov.uk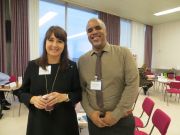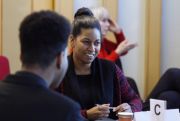 Julie and Ian from DWP Janine from Clarion Housing Group