Employers go back to school for the day!
BEBP volunteer Business Ambassadors and employers including Bell Group, Direct Line Group, Hand Picked Hotels and Thames Water went back to school on Tuesday 26th March! They spent the day at Langley Park School for Boys in Beckenham helping a small group of Year 11 students better understand the world of work and specifically their options once they leave after their exams this summer. The students worked in small groups supported by our volunteers with the main focus around producing a CV they could use when applying for opportunities.
Peter Morris from Thames Water gave a fascinating insight into the work of the organisation and the range of job roles within it. We found out more about the fatberg in the London sewage system and ways we can all work together to prevent these in future. Peter said of the event 'For my part, I very much enjoyed meeting the young people and listening to their variously-developed plans for the future. I particularly enjoyed meeting Monty who I found to be quite well aware of his qualities and in possession of a good starter for 10 CV!'
After lunch, all the young people benefitted from a 1:1 interview with our business volunteers. Teena and Jama, from Bromley Youth Support Programme, also worked with the young people providing advice on services available if they do find themselves looking for training or employment later in the year.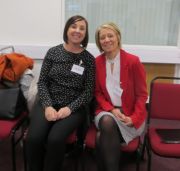 Michelle Levett and Katie Owlett from Hand Picked Hotels
provided a valuable insight into the hospitality industry