Focus on Employer - Mytime Active
Bromley EBP is delighted to have re-engaged with Mytime Active and be working in partnership to help and support young people in Bromley. They have been involved in both our recent annual summer Jobs Fairs at the Central Library in Bromley for young people looking for employment. They brought along 'live' vacancies in a range of sectors within the leisure centre and spent time explaining more about the different jobs. Employees from Mytime Active have also given up their time to help support employability events coordinated by BEBP for students from local sixth forms and also in schools.
More recently, through our close links with Susan Gayton, Workforce Development Business Partner, she has helped a couple of vulnerable young people who are having a challenging time at school to secure work placements at Orpington Golf Centre and the Pavilion. This type of support helps young people see the connection between what they do at school and the world of work. Susan has also signed up to be one of our Mentors to work on a 1:1 basis with a young person who needs encouragement to help develop their confidence, motivation and self-esteem.
We truly hope this relationship continues to grow and that together we can help support young people in the community.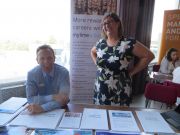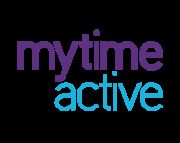 Simon Jones and Susan Gayton
at the BEBP Jobs Fair in July 2018