Taking their Next Steps
38 sixth form students from Darrick Wood School came along to the Library in Bromley on Wednesday 28th November to meet representatives from local and national employer organisations. The aim of the event was to help improve their employability skills and transition to the workplace as they had indicated to their school their intention not to go onto University once they finish their studies.
Thanks to all our employers and business ambassadors who gave up their time to help including Thackray Williams, Department for Work and Pensions and London SE Colleges. The feedback from students was very positive and they appreciated help with improving their CVs and meeting the employers during the speed networking session. Susan Gayton from Mytime Active talked to the group about the range of roles within their organisation and the different skill sets needed.
Our next event will be for Year 12 and 13 students from Charles Darwin School and Kemnal Technology College on Wednesday 30th January 2019. If you are an employer who is keen to support young people and would like to get involved, please contact us.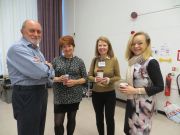 Louise with a few of our community volunteers - John Roberts, Veronica Costello and Liz Banks