Next Steps into Employment
Over 75 sixth form students from Chislehurst School for Girls and Langley Park School for Boys came along to the Central Library in Bromley last Friday to meet representatives from local and national employer organisations. The aim of the event was to help improve their employability skills and transition to the workplace as they had indicated to their school their intention not to go onto University once they finish their studies.
Ian from DWP opened the event with an interesting presentation on how to make the most of yourself when applying for jobs and how to avoid some common pitfalls. Damian from London South East Colleges provided information on the breadth of apprenticeship opportunities open to young people and the benefits of earning while you are learning!
Thanks to all our employers and business ambassadors who gave up their time to help including Bell Group, Caremark UK, FM Conway, Handelsbanken and MyTime Active. The feedback from students was very positive and they appreciated help with improving their CVs as well as the opportunity to have a 1:1 practice interview with someone from the world of work.
This is the first in our series of Next Steps events for students and if you are an organisation that would like to get involved to promote your sector and help the workforce of the future – please get in touch.
We look forward to doing it all over again on Wednesday 28th November for a group of students from Darrick Wood School.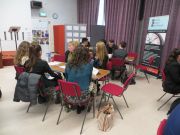 Students find out from Caremark UK about working in adult social care