Employers go back to school!
Over 20 volunteer employers from local and national business and the community spent last Friday 13th July back at school. They worked with 260 students from Year 10 at Darrick Wood School helping them to be better prepared for the world of work. The volunteers worked with a group of 6/7 young people and took them through a number of activities to help them better understand the range of opportunities open to them when they finish their studies.
It was a very hot day but that didn't deter the students from really engaging and chatting with the employers to find out more about their line of work. One of the key aims was for each young person to produce a draft CV which they did with the help of the employers.
The students found the support from employers very helpful as evidenced by some of their quotes:
'I found this day very helpful and it has helped me to understand business and what I would like to do when I am older'
'It was enjoyable and it will help for my future'
'Really helpful and I learnt things that I didn't know before'
Thanks to all our employers and community volunteers for giving up their time to help at the event – we really appreciate it.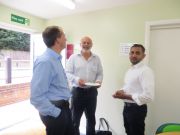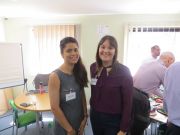 Direct Line staff support the day through their CSR Programme Staff from Thackray Williams gave advice on working in law